Hello Enthusiasts!
Once again, it is Morgan, your friendly neighbourhood blogger, and, as you may have noticed, this blog has a new name. Yep, it is now called "The Enthusiast!" I am so excited to share with you the finished product of #TErenovation and in the rest of this post I will explain my decision to change the name, as well as explain the changes that go along with the name change (don't worry, it's not nearly as complicated as it seems.)
Morgan, why did you change the blog name?
Well, interested reader, the previous name of my blog was "Teenage Enthusiasm" because I was 15 when I created the site. That's right, I was a teenager. In exactly 8 months and 11 days, I will no longer be a teenager. Of course, I will always be a teenager at heart, but my age won't reflect that anymore. Which is what prompted the change. I've been anticipating this switch for the better part of a year and I finally found the time to make it all work out. And now that I'm here, being "The Enthusiast" just feels like the right fit. And one I can't grow out of!
I hope you'll all support me in this change. I know it's confusing and probably not advisable (I live by my own rules) but it feels right for what I'm accomplishing in my life. I'm still going to incessantly talk about attractive band members, discuss movies like they are my best friends, be more British than is good for me, and give advice like it is my birthright. It's just going to be under a more 20-something name. So, are we all on board, Enthusiasts? (Note that you still have the same nickname, score!)
So, what exactly is changing? I'm confused.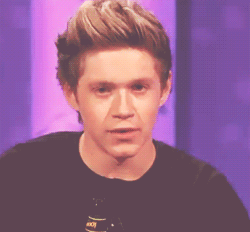 Confused Niall gif was necessary for this explanation.
I am so happy you asked that. Let me list them.
Blog name & URL
As I am now "The Enthusiast," the header of this blog has changed. It is the same design because I am so attached to the design Sarah came up with that I cannot part with it. Yes, I realize that sounds ridiculous considering I'm changing the name of a 3-year-old website like it's nothing, but won't change a design.
And since the name is changing, so is the URL. Instead of www.teenenthusiasm.com, the new URL is http://www.enthusiastblog.com. But considering I own both domains, if you accidentally type in the wrong URL you will still be directed to the same website!
Email address
If you've tried emailing me, you'll know that my email address was teenenthusiasm@gmail.com. However, because I'm slowly becoming more accustomed to the whole WordPress domain thing (yes, three years in and I'm still learning) I have made a new customized email. If you would like to contact me, my new email is morgan@enthusiastblog.com. I hope to see your mail!
Social Media
This one is the biggest doozy. Luckily, if you already follow me on social media, it won't affect you at all. I am changing all my social media to match the new name, but it's still the same account. So if you already follow me on something, you don't have to do it again. I just want everyone to be aware. So, here is a list of all the new social media accounts (for those of you who need to get your act together and follow me. Seriously, my Twitter is hilarious.)
Personal Twitter: @PotatoesHegarty
Blog Twitter: @ThatEnthusiast
Facebook: facebook.com/thatenthusiastblog
Tumblr: thatenthusiastblog.tumblr.com
Instagram: instagram.com/PotatoesHegarty
Keek: https://www.keek.com/enthusiastblog
__________________________________________
And that's all you really need to know about the blog change. I hope you'll all be able to come to terms with it, and I will guide you all through the steps if you get lost (I'm expecting so many phone calls from family members.) You can email me, tweet me, comment on this post, etc. and I will get back to you as soon as I can!
Welcome to The Enthusiast, the most enthusiastic place on the Internet.
Stay classy, Internet,
FIND MORGAN ON THE WEB
TE TWITTER:
http://www.twitter.com/ThatEnthusiast
PERSONAL TWITTER:
http://www.twitter.com/PotatoesHegarty
FACEBOOK:
https://www.facebook.com/thatenthusiastblog
INSTAGRAM:
http://www.instagram.com/PotatoesHegarty
TUMBLR:
http://thatenthusiastblog.tumblr.com/
BETTER BLOGGER NETWORK:
http://www.betterbloggernetwork.ning.com/profile/MorganHegarty
KEEK:
https://www.keek.com/enthusiastblog