It's that time of year where 20-somethings around the world are getting ready to take their end-of-year finals. And instead of panicking and freaking out, it's time to learn how to deal with all that stress.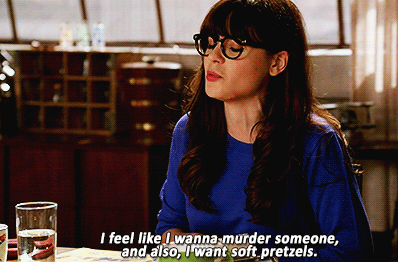 I am the queen of stress, and get dyshidrosis on my hands every term. It's disgusting and gross, but ever since I developed it senior year of high school I have learned ways to lower my stress level, which means less yucky bumps on my fingers.
Everyone deals with stress differently, and stress treats everyone differently, so there is no go-to way to alleviate stress. However, the tools I have lined up below will help to work toward alleviating stress, or at least distract you long enough to not lose your cool in the library.
Have a good finals week!
The Enthusiast's Finals Week Stress Guide (aka, How to Chill Out During Hell Week)
1. Five-minute jumping jacks
Step away from the textbook and do jumping jacks (or another cardio exercise of your choice) for approximately five minutes. Get the blood flowing back to your brain, alleviate the numb bum, and focus on breathing instead of that final. You'll find that by the time you're done that all the worry about memorizing terms is now focused on the positive endorphins now in your brain.
2. Play your feel good playlist
If you're crunching time and don't have the luxury of stepping away, put a little pep in your step with your feel good playlist. Playing music that makes you feel happy will send signals to your brain that will combat the stress now taking over. Plus, feel free to blurt out a note or two to let your happy out!
3. Go have a drink
Whether you enjoy a smoothie, water, or bourbon, sometimes taking the time to walk somewhere local and grabbing something can be all the difference. When I lived in the dorms it wasn't uncommon for a friend and I to excuse ourselves from the study room to go grab a smoothie or milkshake when the stress got too much for us. Plus, having something sweet (or strong, I won't judge) can take the edge off that finals can bring. Just don't indulge too much.
4. Walk out of the room
If you're in your bedroom move into the living room. If you've been in the library all day go out to the courtyard. Don't sit in the same place for too long. And while I can't find the medical reason of why it's beneficial to change your surroundings, for me I know that when I change it up I end up relaxing a bit instead of staring at the same wall.
5. Call someone
I like to call my mom and just tell her what's going on. It's relaxing to talk to someone who cares about you and supports you. Or I'll call my BFF and we'll laugh about something stupid (I called her last week laughing about a bagel) which immediately takes my mind off of the project I'm working on. Take that half hour break and talk to the person who makes you happy!
6. Bake
Between measuring and mixing, baking is a very calming action. And the result of having a delicious treat at the end to reward yourself when you're done makes it even better for the final exam season. Baking has been shown to decrease stress and increase happiness, so why shouldn't you indulge in some chocolate chip cookies instead of study?
7. Work on another project
Been reading your textbook all afternoon? Switch to a more hands-on project. The change of action, and focus on another topic, can help your brain not strain itself with just one stress. Plus, as we all have one kind of project we enjoy doing over another, save the final you're looking forward to the most (I know it's hard) and save that as your Project Stress Later.
8. Have a mini 'me' time
There comes a time during finals week where it becomes a little too much. That's why there's 'me' time. Paint your nails, play some Xbox, take a bath, do some yoga, whatever you do to just enjoy yourself. Take an hour out of your busy study schedule to focus on yourself and see if that makes you just a little less stress for that final project due tomorrow morning.
9. Have an all-out dance party!
When in doubt, shake it off! Grab your favourite tunes, maybe some friends, and just dance until you're so tired the only thing you can do is study. Dancing is one of the best ways to get it all out and shake out all that negative energy. So let's get dancing!
How do you stay sane during finals week?
Stay classy, Internet,
FIND MORGAN ON THE WEB
TE TWITTER:
https://twitter.com/thatenthusiast
PERSONAL TWITTER:
http://www.twitter.com/PotatoesHegarty
FACEBOOK:
https://www.facebook.com/thatenthusiastblog/
INSTAGRAM:
http://www.instagram.com/PotatoesHegarty
PINTEREST:
https://www.pinterest.com/thatenthusiast/
TUMBLR:
http://www.films-and-good-times.tumblr.com
TE TUMBLR:
http://thatenthusiastblog.tumblr.com/
BETTER BLOGGER NETWORK:
http://www.betterbloggernetwork.ning.com/profile/MorganHegarty
BLOGLOVIN:
https://www.bloglovin.com/blogs/enthusiast-2812205